We recently caught up with Ahlawat & Associates to discover 6 compelling reasons to hire a trademark lawyer. This is what he said:
"Coming up with a new brand name? You might want to do a quick search to ensure that the brand name you choose is already not being used by somebody else. If not, it is recommended to get it trademarked at the earliest.
When you are in the process of protecting something as important as your business or a brand's name, it would be in your best interest to speak with a Trademark Registration Lawyer first. You care about your company, and you want to make sure it is in the best hands.
What is a Trademark?
In simple words, a trademark is an identifiable logo or sign that differentiates your product or services from competitors. It may be a word, name, device, label, or numeral, which helps customers identify the product's source.
It is an asset that can be and should be protected. Mainly when dealing with Intellectual Property issues, more so due to the digitization of business in the Covid-19 era, there are specific fears/concerns about protecting all of your rights. To be covered, your brand needs to be trademarked.
Registering a Trademark
Registering a trademark sounds simple enough, but the DIY trademark application is not always a money saver and not an easy process. Any changes or corrections you may need to make after submitting your application can be a costly affair both in terms of time and money.
Having sound assistance from a trademark expert helps minimize the risk of making simple mistakes, which may result in your application being rejected.
Reason to Hire a Trademark Registration Lawyer
Many young entrepreneurs might think that applying for the Trademark per se is not that complicated, and hence it could be conducted by oneself without an attorney's help. Applying for a trademark could initially seem a simple process, and it can be done on your initiative, and there is no mandate that a lawyer should be involved in the same.
However, the protection of your business or brand is essential. Therefore it's worth seeking the aid of a professional whose assistance can significantly increase your chances of approval while securing the broadest possible protection for the mark – with as little hassle as possible.
The process starts only after your first application stage. Understanding objections and responding to them effectively, attending hearings if necessary, watching out for third-party marks, which might be similar, keeping track of the application's progress, and following up on the same are few steps in the process.
Here are some of the many reasons to hire a lawyer for a Trademark.
#1 Choosing the right protection
One of the reasons entrepreneurs seek a trademark is to protect their business or a brand. Getting it wrong in terms of the protection sought can leave one without the rights they thought they were acquiring. People working without a proper trademark attorney usually depend on online websites providing such services whose only aim is to get a trademark registered.
They do not conduct comprehensive searches or make an effort to understand your business in-depth to protect your brand now and in the future. Trademark Attorneys, on the other hand, spend time to understand your brand and have the knowledge required for fool-proof protection of your brand.
#2 Improving submission success
Comprehensive Trademark Search is the reason for higher submission success. An experienced IP lawyer has access to sophisticated software that can find exact and similar trademark matches allowing them to make a unique submission even before the application is filed, thus increasing the submission success.
#3 Drafting the description of goods or services properly
Drafting of an application is as crucial as performing the adequate analysis of the Trademark search. Neglecting the proper drafting of the trademarked goods or services in the description could lead to a rejection of your application or possible infringement on other marks.
Even if your application is approved, the application's description could later expose the business to penalties for fraud in the trademark office if it inaccurately describes the products or services. An experienced trademark attorney works in tandem with the business officials or right POCs to develop a strategy and draft the description that can avoid overlaps with other marks.
#4 Identifying the correct class of goods
Trademark is segregated in 45 different classes according to the International Certification of Goods and Services, which is also known as the NICE classification. Amongst these 45 classes, 34 classes come under the Goods section, and 11 classes come under the Services section.
Each class depicts a specific category of Goods and Services. This classification comprises almost 80,000 products. It is very easy to confuse these classes, and an entire application can be rejected due to a submission made in the wrong class.
#5 Use of correct language
The language used in a trademark application sets legal rights for the mark as we advance. Trademark lawyers craft the application's language to ensure that the application is accepted and that the rights are as broad as possible.
#6 Be sure and secure
Having a Trademark Attorney file will provide a sense of surety and perfection in the application. One may not need to worry about the application being filed incorrectly or its repercussions at a later stage. Your attorney will take care of it for you.
All in all, as an applicant, you can choose to file the trademark application without the help of a trademark attorney, but you may not have the proper resources that are necessary to do a full search on all the trademarks that exist out there. Therefore, it is recommended that you take the assistance of an expert legal counsel with the registration process.
Trademark FAQs – Frequently asked questions about Trademark Registration.
Do I need an attorney to file for a trademark?
It is not necessary to engage a trademark attorney for the process of registration of the Trademark. But, Trademark Registration is a legal process with strict procedures and extensive legal research; thus, it is advisable to assist a lawyer who is familiar with the process and can handle registration more efficiently than you can on your own.
What are the benefits of hiring a trademark registration lawyer?
The process of application of the Trademark is a complex and lengthy one. An entrepreneur may want to invest his/her time developing the company rather than rummaging through the Trademark registration process. Taking this task upon one's shoulders may limit the ability to focus on the company's growth in general.
Also, as explained above, the research that goes into application on a TM is an exhaustive one and can often be tricky due to the vast number of classifications involved. There are high chances that a person not experienced in trademark laws may end up making mistakes or overlooking important clauses, which may cost both time and money in the longer run. An experienced IP advocate can safeguard one's interest in this respect.
What questions should I ask an attorney before hiring?
Usually, a Trademark Attorney can advise you on the Trademark registration and application process and Trademark Law. You can get a thorough understanding of Trademarks, how they can help, and the necessity for registering one. A Trademark Attorney can be of assistance if one wants to know about selecting trademark classes, trademark specimen, questions regarding registration and protection of trademarks, amongst others.
Is it possible to trademark a name?
Yes, any word, name, symbol, device, or any combination providing a unique identity to any goods and services could be submitted for trademark registration.
What are the types of Trademarks?
It is usually assumed that there are only three or four different types of trademarks. However, trademarks have many types, such as product marks, service marks, collective marks, certification marks, shape marks, etc.
Conclusion
To conclude, the work of filing a trademark can be delegated to either an experienced trademark registration lawyer or an IP law firm, having experienced lawyers to register the Trademark and should a situation arise when an objection is raised against a filed trademark, attend to the matter and settle it.
A trademark attorney can be instrumental in providing proper legal assistance about Trademarks' laws and takes the burden off the client's shoulder so that the client doesn't have to do everything on his own.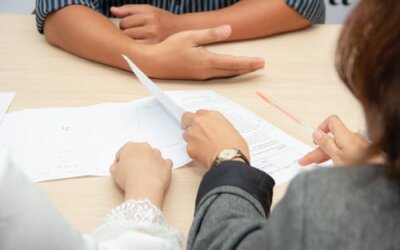 The dos and don'ts of conducting a first interview. Interviewing candidates is a crucial step in the hiring process. It is important to ask the right questions and go well-prepared to make the most out of it. If you are new to recruitment and haven't conducted...