Based on extensive research into the industry and the needs of our clients and jobseekers, we're thrilled to relaunch a brand new Simply Law.
As well as a fresh new look, the site is jam packed with new and exciting features and old favourites which have been updated or revamped.
As we have made some considerable changes, we're keen to ensure our clients are fully up to speed on what's changed, how it works and how to make the most out of the new features. 
If you prefer to post a job using our online checkout, we've introduced a brand new job advert builder. The builder is optimised for success and will prompt you to include the key information which jobseekers want to know before applying for jobs. 
The prompts will ensure you don't accidentally miss out any vital information

Optimised to boost applications (based on extensive research and jobseeker feedback)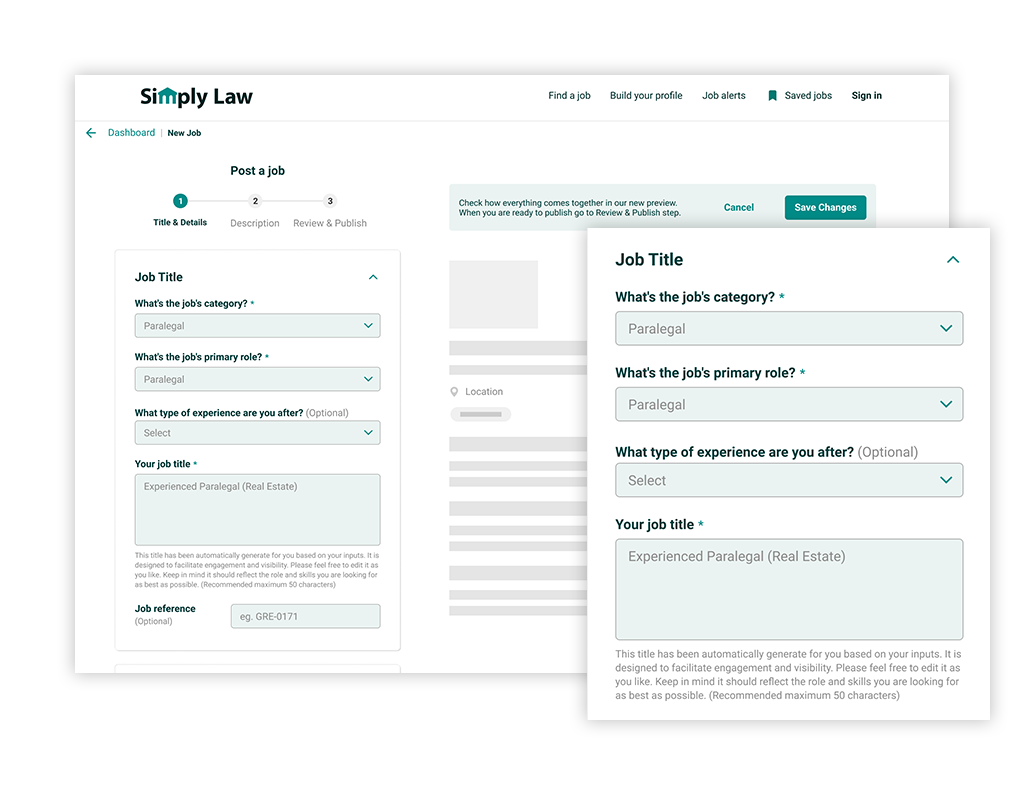 Our new online checkout uses a payment algorithm to ensure that you're paying the best day rate for the role you wish to advertise. You can also just pay per the number of days you would like the job advert to be live.
Once the job advert has achieved the number of quality applications you desire, you can cancel the campaign

Save money by only paying for the days you need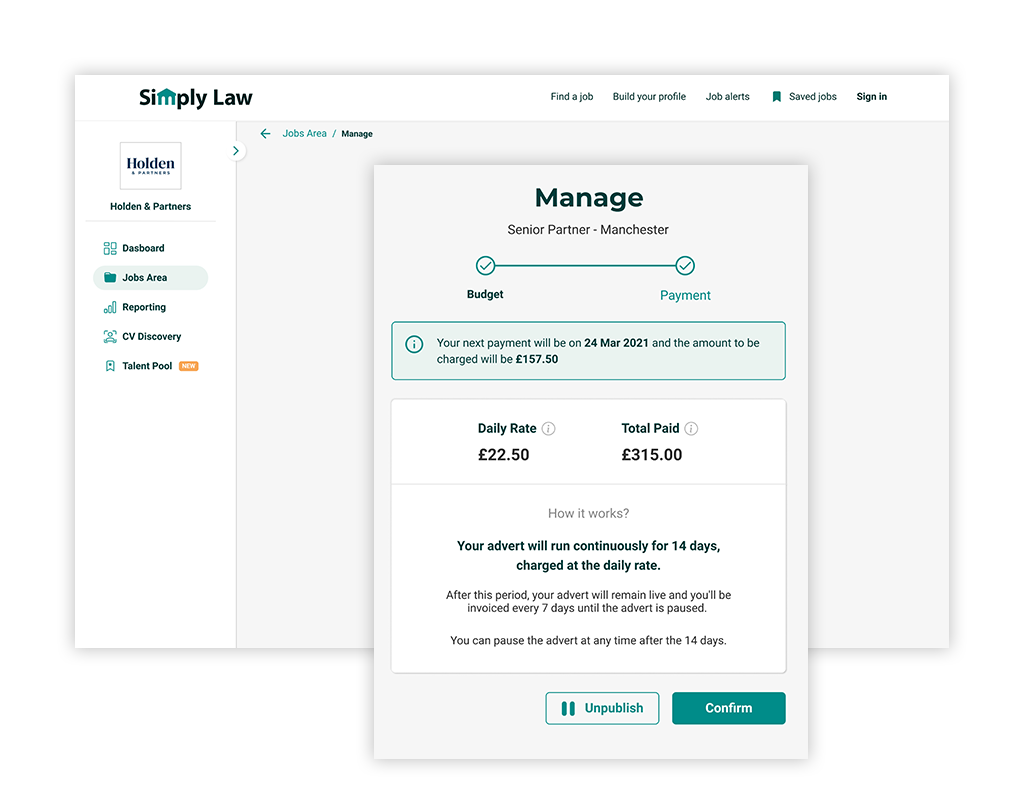 A place for jobseekers to get to know you
Over the last few decades, the recruitment landscape has shifted dramatically and jobseekers want to know more about a company before they will apply for their vacancies.  
A new 'About us' section (built within the job advert itself) will allow employers to provide supplementary information such as company culture, diversity policies, working hours and career progression opportunities. In a recent survey with Simply Law users, this was the information they said they wanted to see in a job advert.  
All this additional information helps the jobseeker to make an informed decision about whether the position and company is suitable for them.
Build trust with jobseekers 

Increased quality applications as jobseekers can match themselves to vacancies more efficiently 

Reduced time spent sifting through irrelevant CVs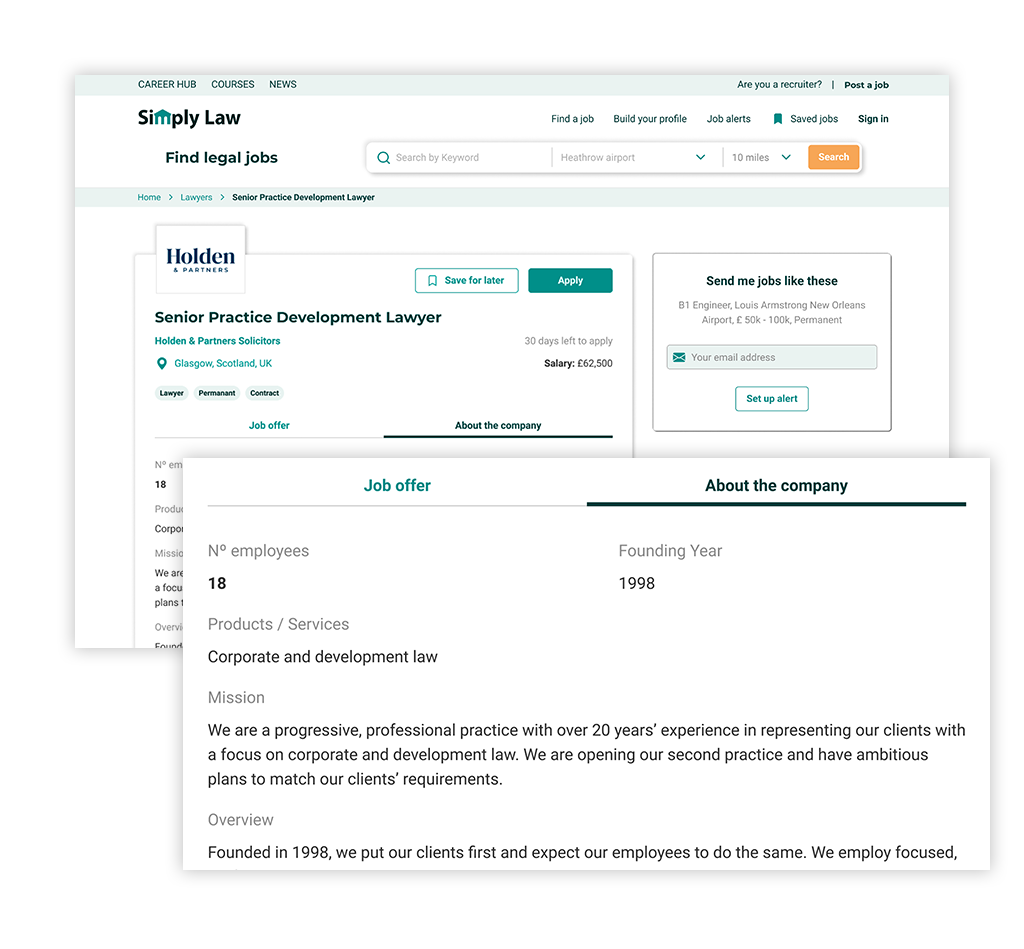 Save a job advert as a draft
If you get half way through posting a job advert but need to come back to it later, you can now save it as a draft.
Store a job advert in your dashboard and publish at your convenience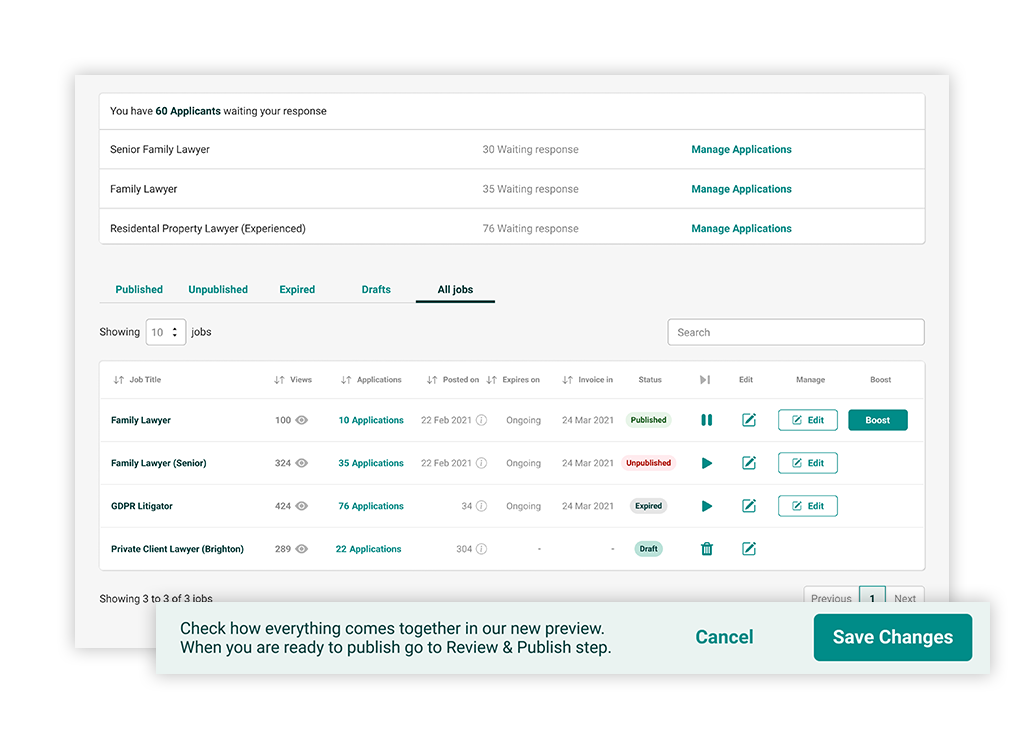 Discover job advert performance indicators
We've displayed a lot of job adverts over the years so we've seen the good, the bad and the ugly. That means we understand what makes a good job advert which attracts quality applications.  
Through this expert knowledge, we've introduced a new job advert enhancement tool which highlights where you're performing well or where you are falling short, which could put off jobseekers applying. 
For example, if you're advertising a Lawyer vacancy in London with the salary of £20,000, we'll flag that this is below the industry average for this job title and location.  
That means you can make amendments to job adverts while they are live in a bid to boost applications.
Your job advert reaches its maximum potential 

Reduce the chance of having to republish a job which takes time and uses job credits

Boost applications in the quickest time possible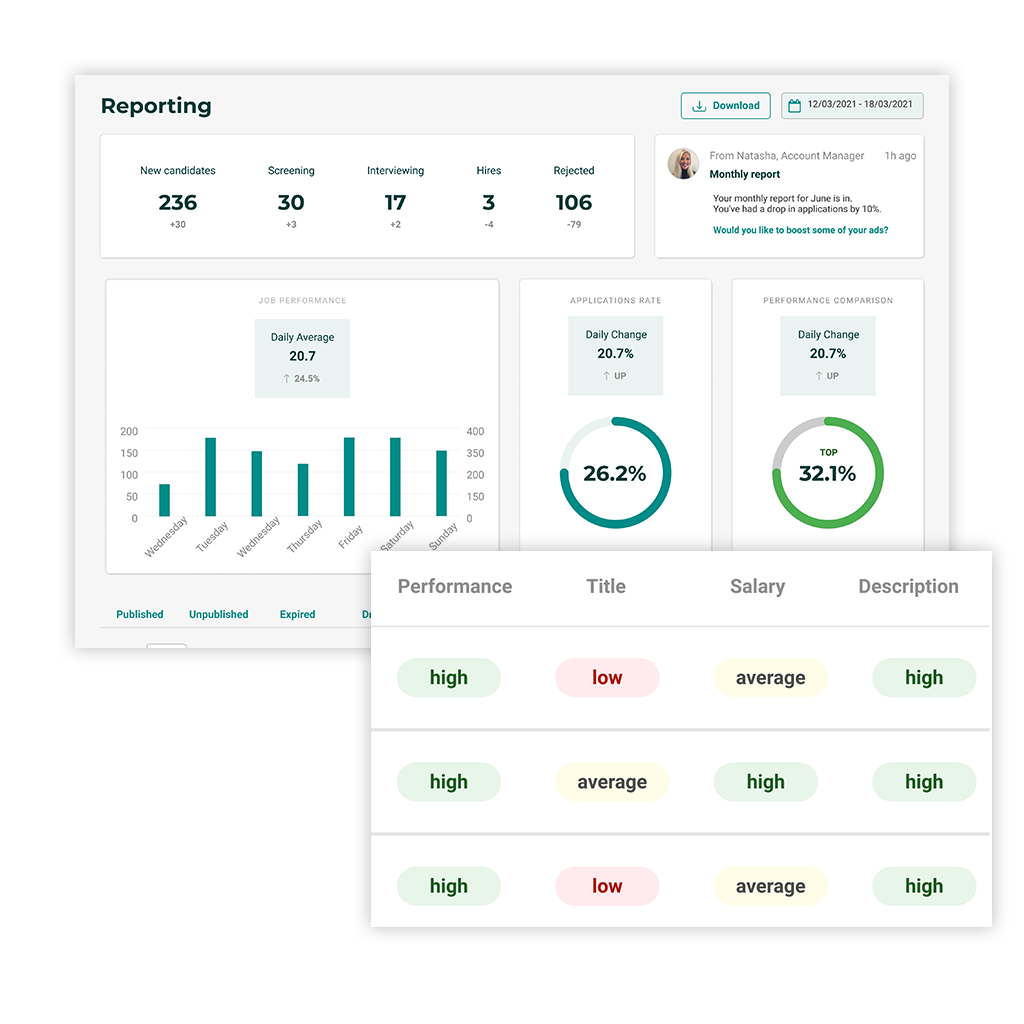 Improved and additional search filters
By improving the search filters in the CV Discovery tool, you'll only see candidates which are most relevant to your search. 
To ensure your search is as specific as possible, we've also included additional filters.
Less time spent searching through irrelevant candidates 

More time spent discovering candidates which best match what you're looking for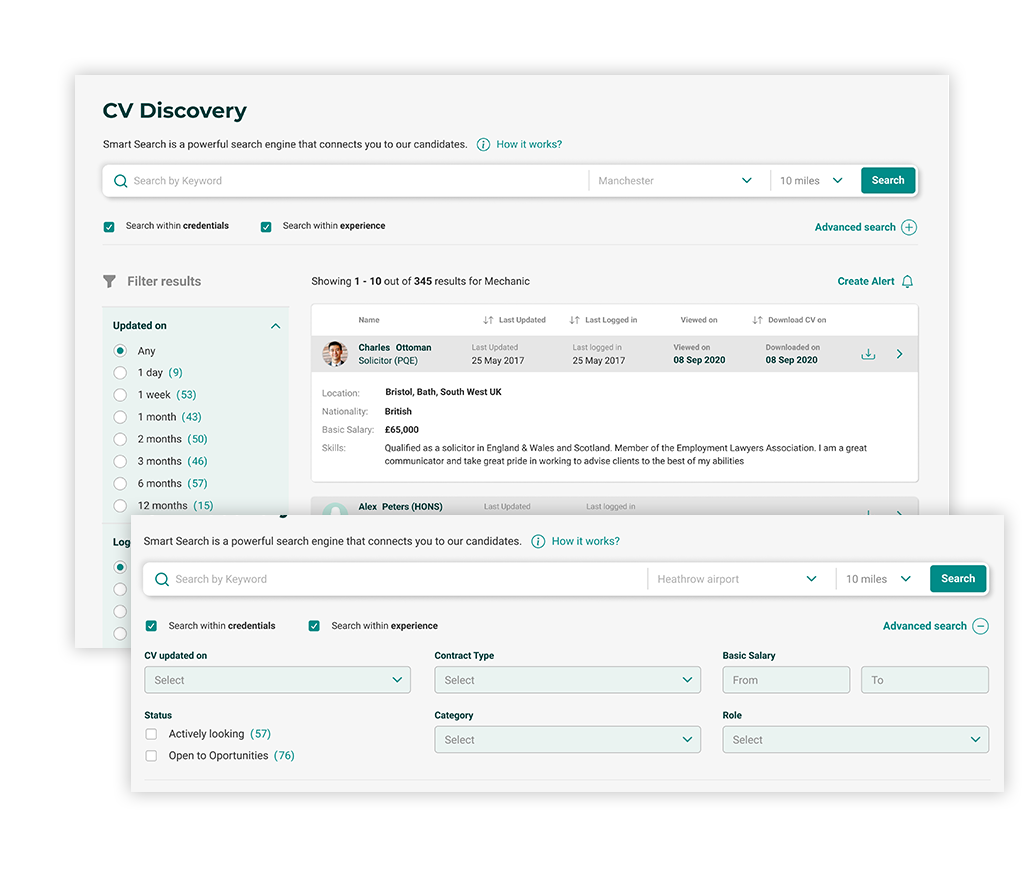 Time is scarce and a small change in functionality can make a big difference to a user's time spent searching for candidates. This is why recruiter dashboards have now been updated to display previous search histories.
You don't need to restart a previous search every time you use CV Discovery 

Your time is spent more efficiently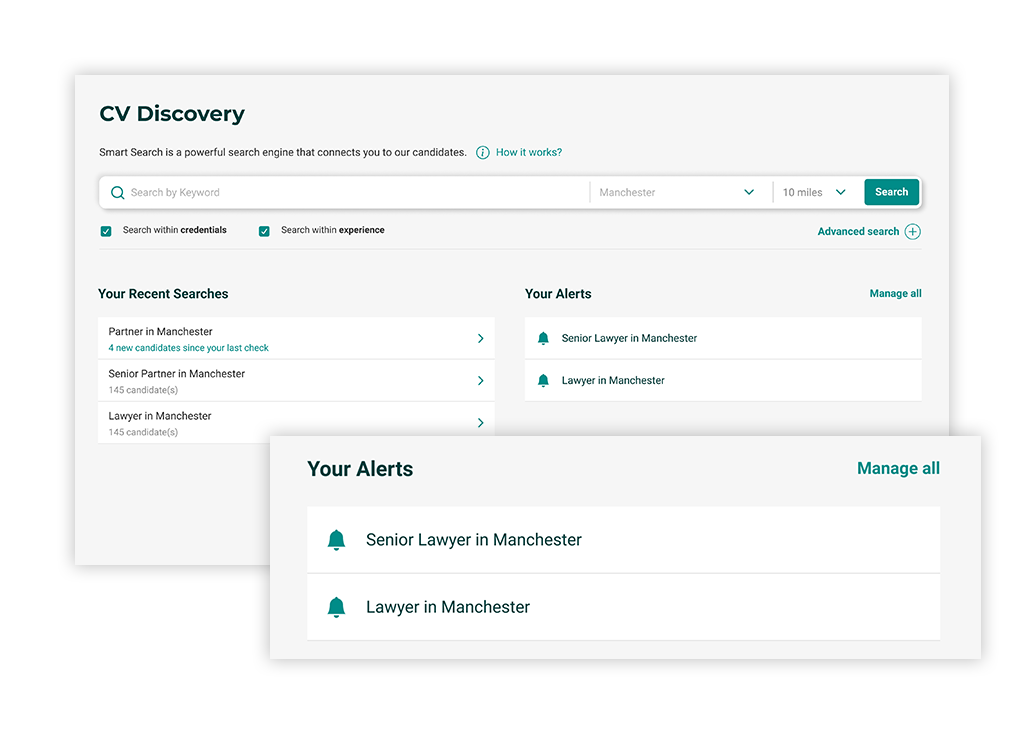 Discover suggested candidates
Our new suggested candidates feature does exactly what it says on the tin. Based on your recent search history, we'll suggest candidates which match what you're looking for.
Discover top talent in the quickest way possible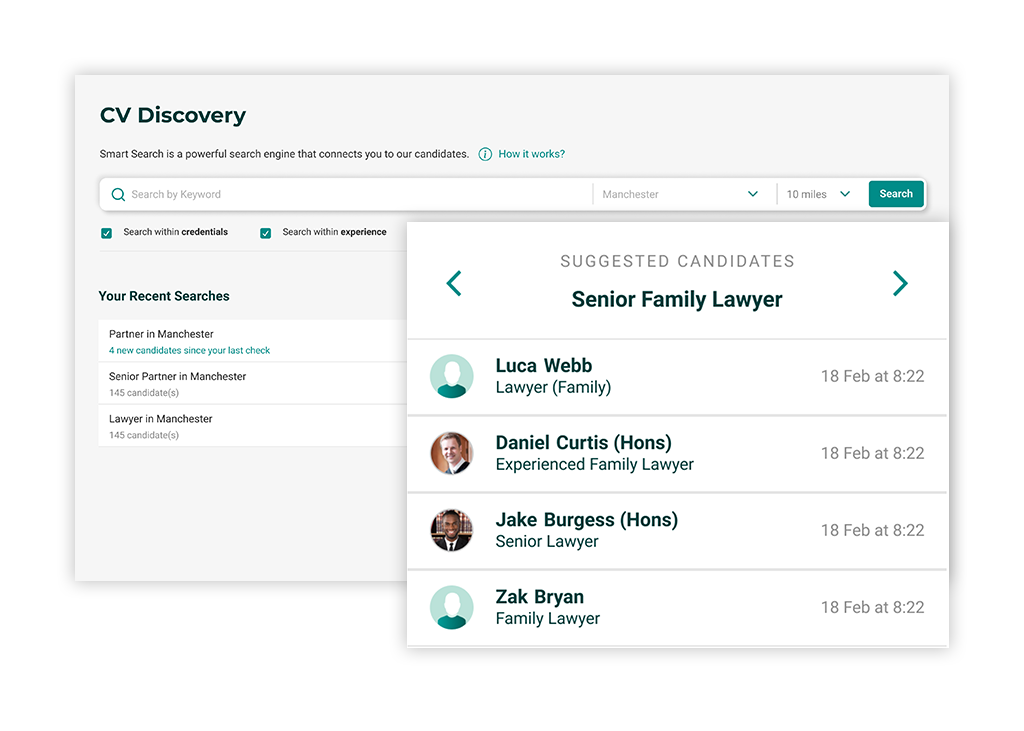 A new and improved dashboard
Measuring and understanding the success of your campaign is vital to ensure you're putting your efforts and recruitment budget in the right place. The new and improved dashboard will feature a summary of the candidate management system, conversion rate indicators and performance comparisons. 
Recruiters will also be able to download reports, measure applications in real time and receive tips to boost job advert performance. 
Increased insights into the performance of your campaigns

Recruitment budget can be allocated efficiently 

Make better recruitment decisions based off enhanced analytics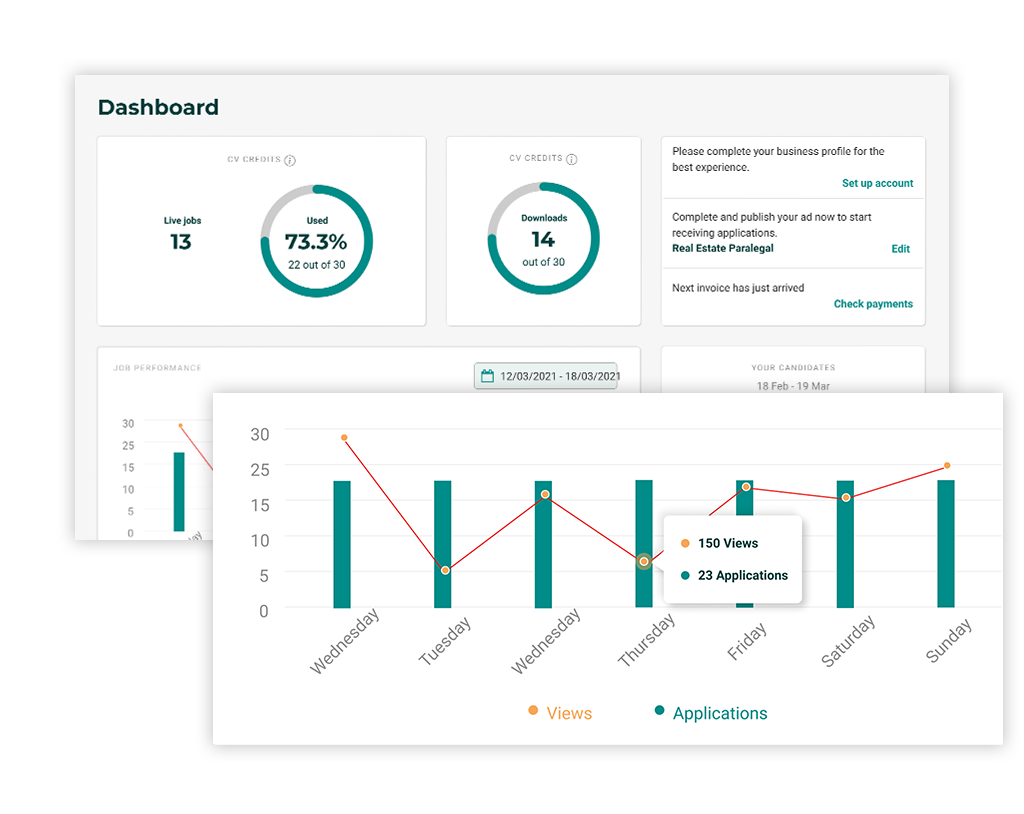 See how your competitors are performing
Through research, we understand that it is common for recruiters to miss out on candidates to their competition through reasons that are completely controllable.
That's why our new performance comparison tool allows you to compare how you're performing against other users.
If you're not performing well, we can make suggestions on how to increase response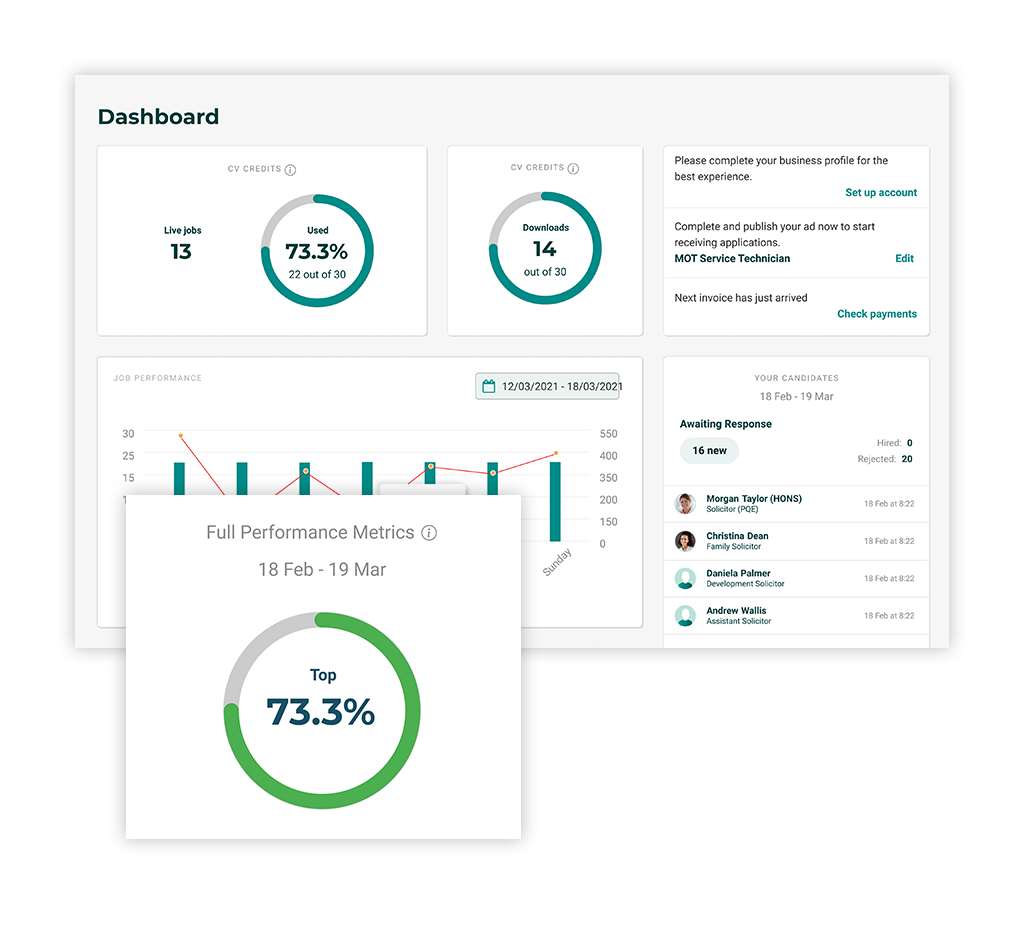 Manage candidate applications more efficiently
The new candidate management system works similar to an Applicant Tracking system whereby you can move candidates from 'Applied' into 'Rejected,' 'Interviewed' or 'Hired. 
Each time a candidate transitions into a new status, we'll update them on the progress of their application. 
46% of Simply Law users told us that not hearing back from the recruiter after applying was the most frustrating part about the recruitment process. Writing a CV and applying for a job can be time consuming so it is only polite to acknowledge their time. 
Rejected candidates can become advocates for your company if things end on a positive note. Perhaps they weren't suitable for this role but they may be the right person for another vacancy. 
Simply move candidates through the candidate management system and be safe in the knowledge that candidates are being notified about the status of their application  

Boost your employer reputation by letting rejected applicants know where they stand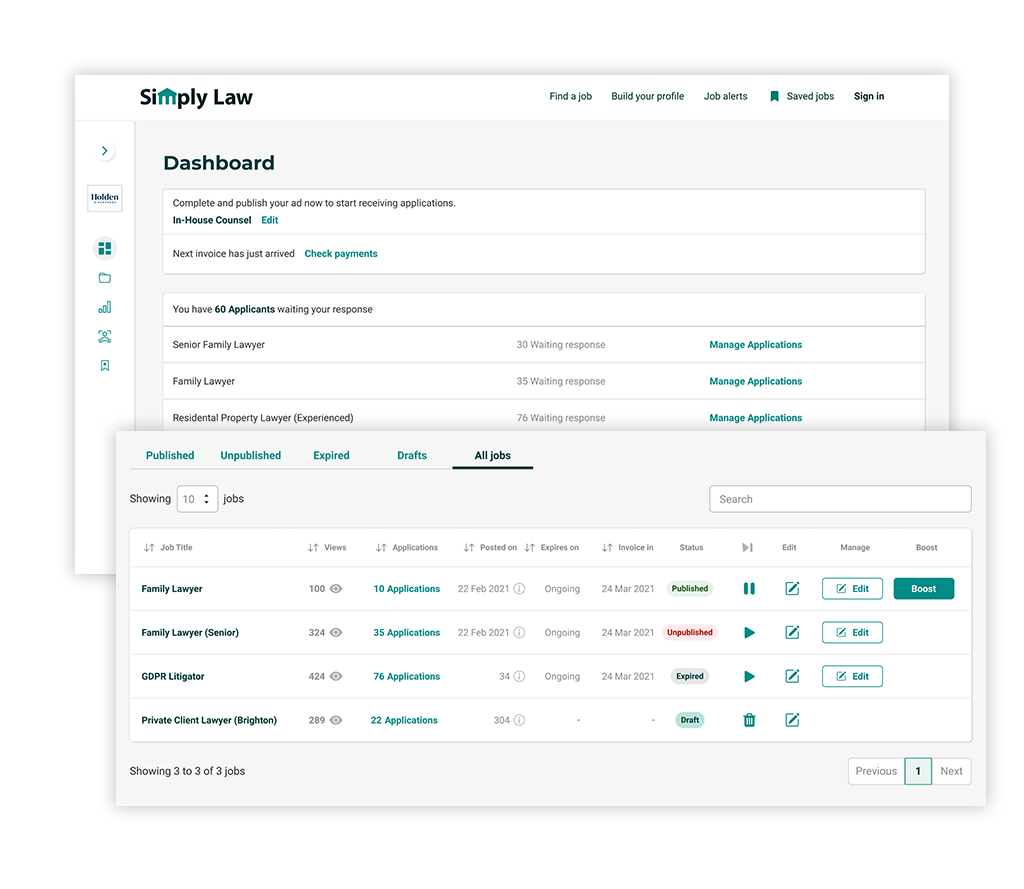 If you've had an amazing CV land on your desk, you can now discover more about the candidate before inviting them to the interview stage. 
The new jobseeker profiles feature everything you'd want to know about a candidate including, personal projects, certificates, awards achieved, languages spoken and so much more! 
Jobseekers love them as they can show off why they're such a great employee and recruiters love them as they can make better decisions about who to take to interview.
Make informed choices on whether a candidate is suitable to interview

Save time interviewing unsuitable candidates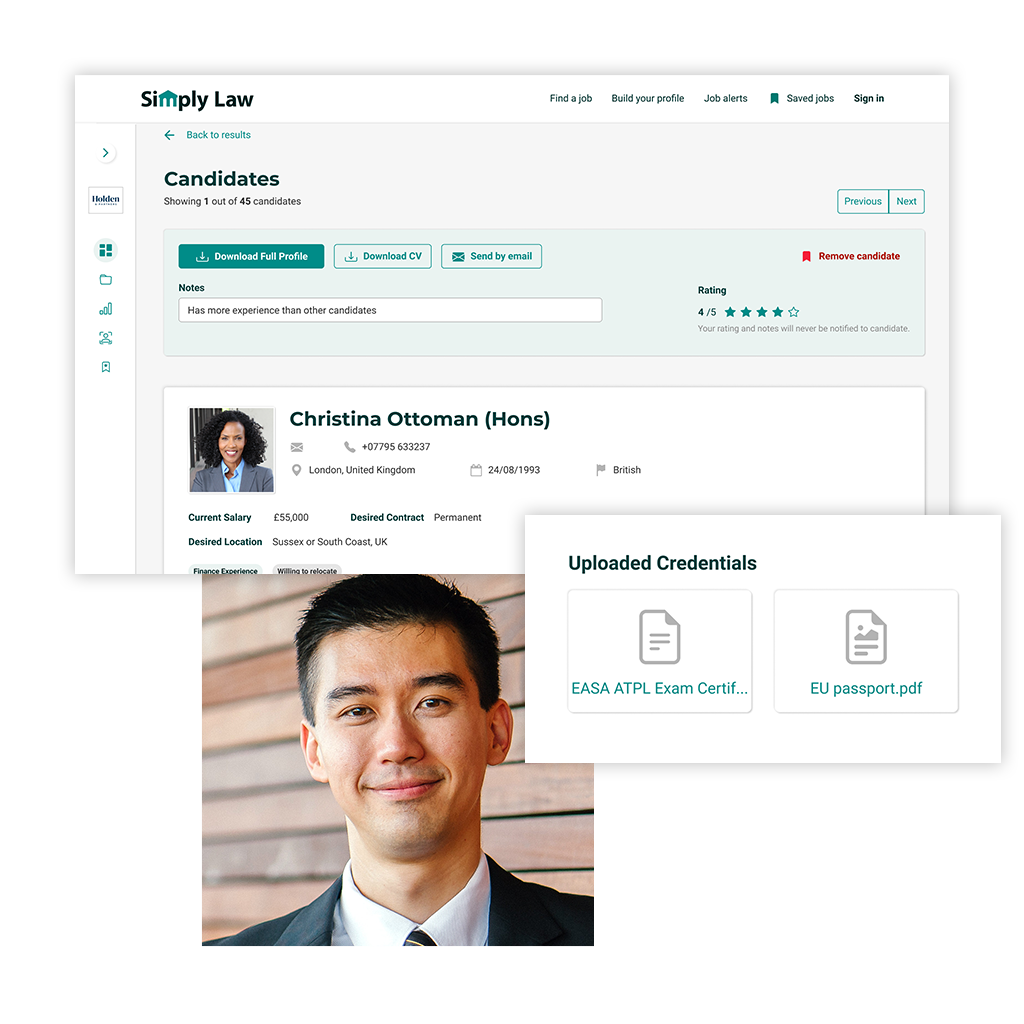 View active jobseekers only
Through feedback from recruiters in 2020, we discovered the biggest recruitment bugbear was searching through old and out of date profiles.
That's why we made the decision to hide inactive candidates from our database until they engage with us or update their profiles with fresh information.
That means your time can be spent more efficiently connecting and recruiting candidates who are serious about finding new career opportunities.
Rest assured though, we'll be working hard in the background to reconnect with those candidates to ensure your career opportunities are seen by the best pool of talent possible.
Conduct more efficient candidate searches

Save time by only focusing on active and serious jobseekers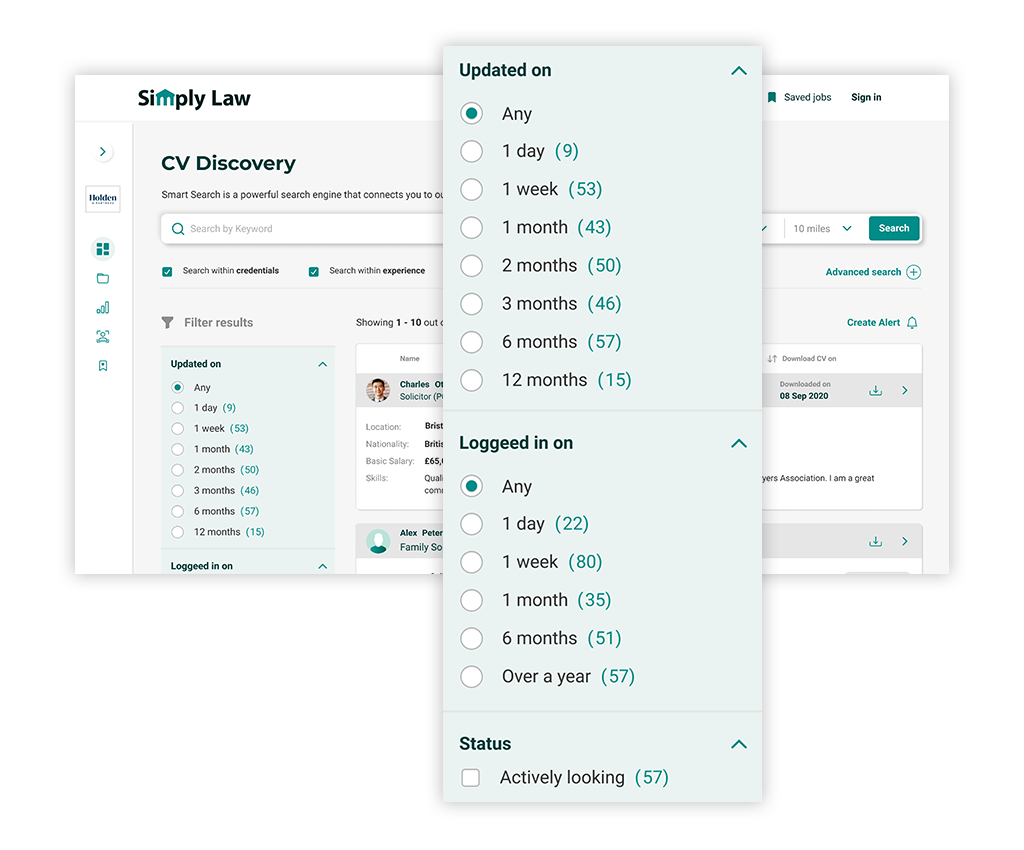 View complete profiles only
Unfortunately, candidates will sometimes only complete half of their profile which is a frustration of recruiters. This is why we will now only show you jobseekers who have provided sufficient information 
We will of course work hard in the background to encourage jobseekers to complete their profiles so they can show off just how great they are. 
Save time spent searching through incomplete profiles

Place your efforts searching and discovering serious jobseekers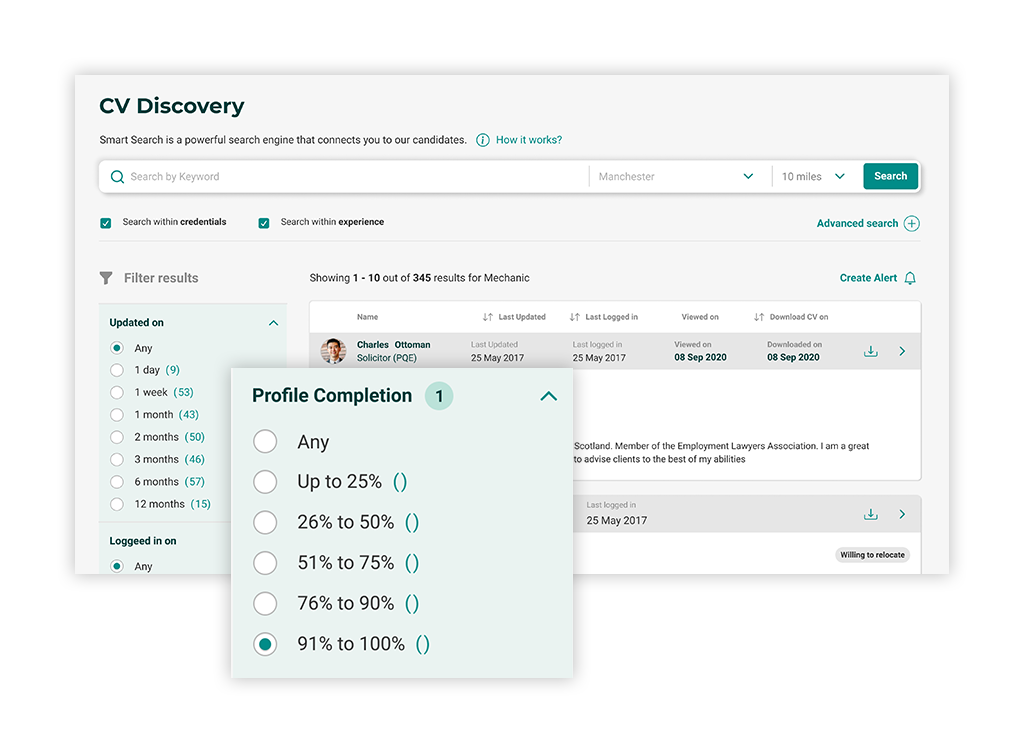 Save candidates in your talent pool
For candidates or applicants that show promise, they can be saved to your talent pool for later. You can also make notes on them, such as how they performed in a phone interview or the next steps to take in their application.
Save time by storing the most suitable candidates in one handy location
Stay organised by making detailed notes on candidates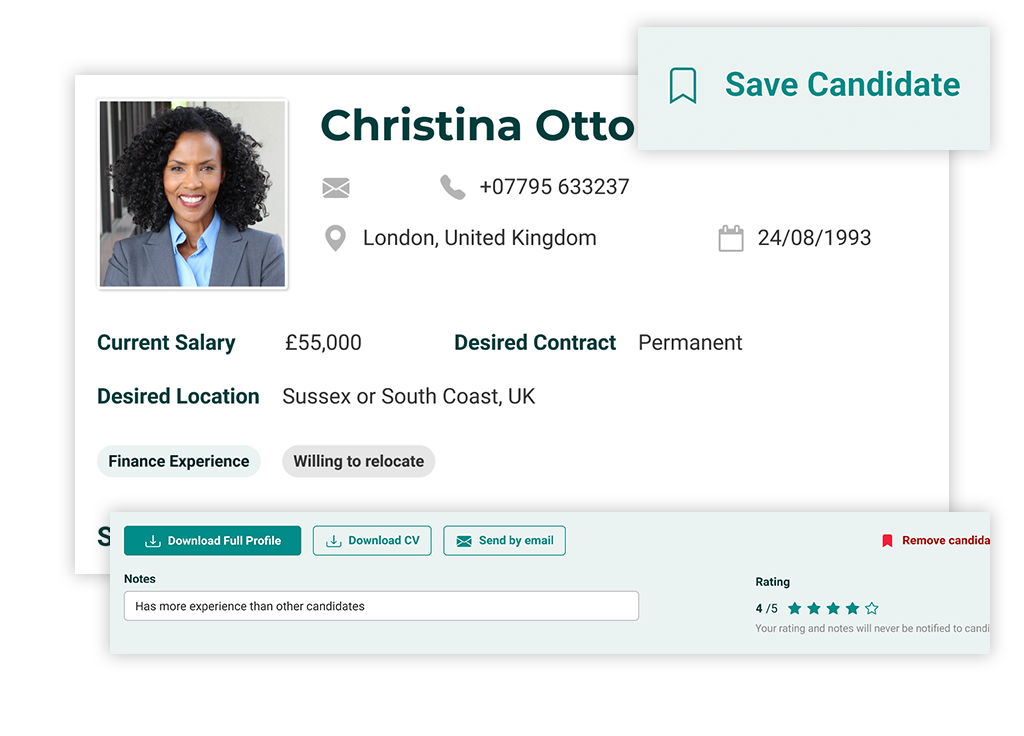 Rate candidates in your talent pool
When a candidate is saved to your talent pool, you can now rate the candidate out of 5. This could be an indicator of how suitable they are for your business, how qualified they are or a preference on who you'd like to contact next. 
Whatever system you opt to use, this can act as a way of distinguishing and filtering your talent
Easier to filter the talent pool

Easier to manage the talent pool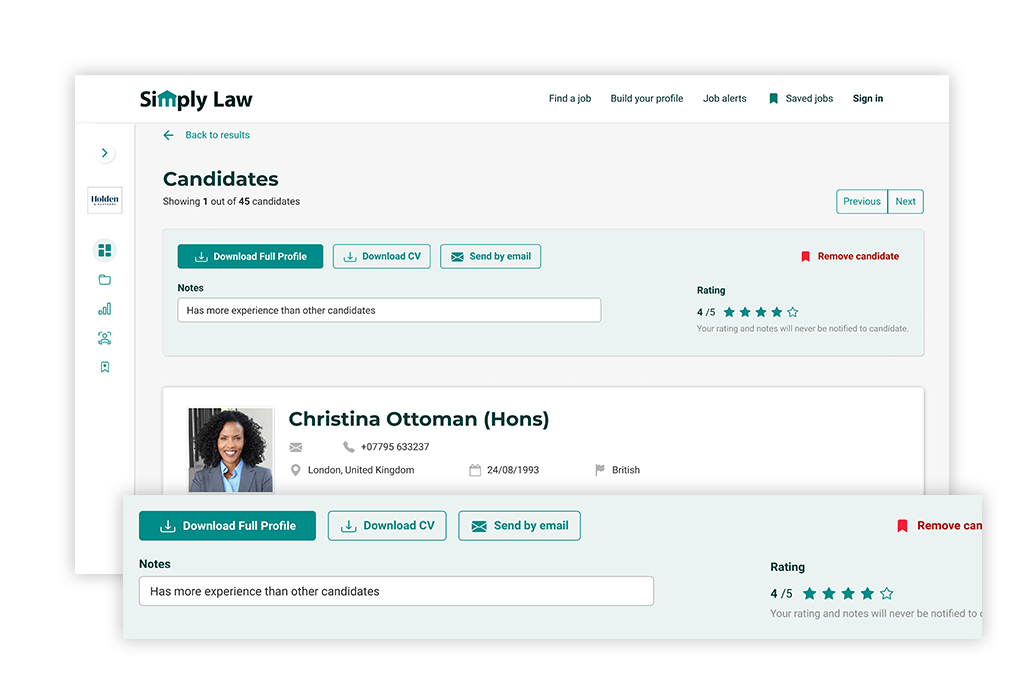 If you can't wait to see these exciting features for yourself, simply login to your account from May 26th.