Release Notes – Candidates
Discover updates which have been made around the site, and how they've been designed to help you in your job search
Candidate Registration & Profiles
Release Notes – Candidates
More updates coming soon… in the meantime, take a look at what's new!
When creating a new discussion on the Forum, we've now provided a handy link to our user guide to help you with any questions you might have about how to get the most out of your discussion and make sure it's seen by as many people as possible. Click here to expand this section and take a look at the user guide for yourself!
When creating a new discussion on the Forum, you'll now be provided with a list of suggested topics that your discussion may fit under, rather than having to manually search for the best topic to file your discussion under. This should make the process of starting a new discussion much easier and more streamlined.
The help tours that used to pop up around the site were often commented on as being too disruptive for our users. We've now removed these tours to make your browsing experience easier, and we're working on a more streamlined way to guide our users around the site with helpful tips.
We've made improvements to the search filters on our job search, allowing you to apply multiple filters at once to provide you with super-tailored search results.
Vacancies posted by direct employers are now highlighted with a "Direct Employer" badge within the search results, helping you easily spot vacancies posted directly by the employers themselves.

You now have the ability to filter your job search results by employer type; simply select the filter above the search results and select whether you would like to view vacancies from direct employers, recruitment agencies, advertising agencies, or any combination of these.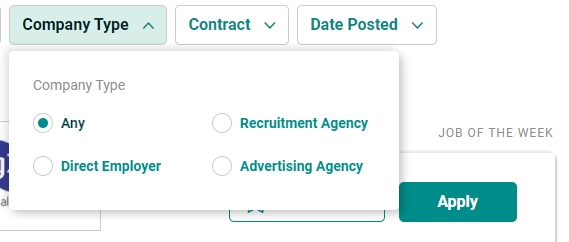 We've increased the maximum radius on our location search to 100 miles, allowing you more flexibility when searching for vacancies by location.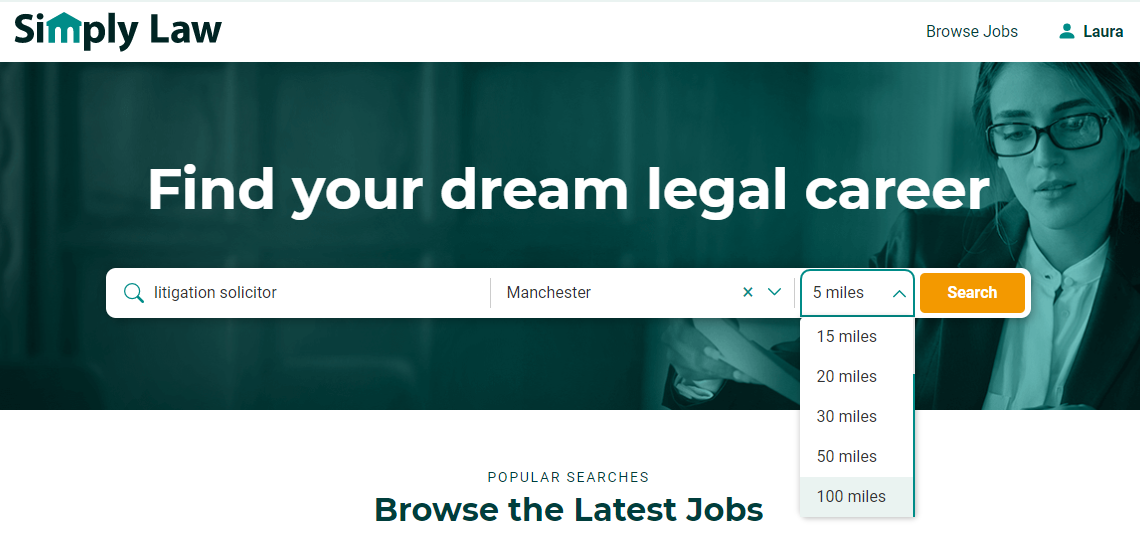 Fix - Searching for roles by region or country was previously failing to display results from cities within those regions. This has now been fixed.
Fix - We've corrected an issue with duplicate location names appearing in the job search field, improving the accuracy of your search results.
Completely redesigned the search and filtering interface for ease of navigation
Moved to a state of the art search engine to provide you with more relevant search results based on your keywords
Added a radius feature to the location search to allow for more specific location searching
Added streamlined, specific filtering options; filter by job category, job location, salary on offer, contract type or date posted
Added detailed header tags to jobs to help you quickly search for similar jobs with a click - these are based on the job's category, title, contract type and required experience
More detailed information required from recruiters in job descriptions, to ensure you have the information you need about each role
Added About the Company section where you can learn more about the company who is hiring, helping you make informed decisions about which jobs are right for you
Added the ability to save jobs for later, which you can find in your candidate dashboard. Just click the Save for Later button at the top of the job and it will be waiting for you in your dashboard next time you log in.
Candidate Registration & Profiles
We've created a new image cropping tool to make the experience of uploading a profile picture more straightforward when building your profile on Simply Law. No more having to make sure your profile image is the right size before uploading - just crop to the correct size on the site!
We've launched a brand new partnership with TopCV, the world's leading CV writing service, allowing candidates on Simply Law to receive a free review of their CV. This is the perfect opportunity to make sure your CV is organised and presented in a way that gives you the best possible chance of being contacted for your next career opportunity!
We've improved the search functionality when selecting your desired job role on your candidate profile, giving you more accurate results from the dropdown menu.
We've expanded the room available within various sections of the candidate profile, including your executive summary and work history. This will allow you more space to elaborate on your skills and experience; no need to hold back on shouting about your achievements!
We've made refinements to the design of the candidate profile, so that your skills are now showcased in a document that's more sleek and professional than ever before.
We're now using improved software to collect the information from your uploaded CV and process this into your Simply Law profile. Whether creating an account for the first time or uploading a new CV file to replace the existing information in your profile, you can be reassured that the information we collect is more accurate than ever before. With this change, it's our aim to help save you the time and effort of manually inputting lots of missing information into your profile.
We have clarified the section of your profile builder where you can input your current salary, to specify that this is for your annual salary (or the equivalent of what you would earn annually if you do not have an annual salary). This has been clarified to ensure that recruiters can get in touch regarding opportunities that match your salary expectations.
Improvements have been made to the instructions on the section of your candidate profile builder where you can upload your professional credentials, better clarifying what sort of information should be included in this section.
Added the ability for you to register / login with your Google or LinkedIn profiles for ease of registration
Added the option to create your professional profile from scratch OR use the existing information in your CV to populate your profile
If needed, you can upload up to 3 CVs to your account so that you have multiple options available to use when applying for jobs
Added a fully guided and easy-to-use professional profile builder; this will guide you through the process of creating your candidate profile step-by-step and provide you with helpful hints and tips along the way
Added certifications and professional credentials sections within the candidate profile to allow you to attach documents backing up your qualifications, helping you stand out from the crowd
Added a preview panel within the profile builder so that you can see how your profile will look whilst you're working on it
Added new sections within the candidate profile where you can shout about your personal achievements, awards, hobbies, skills and interests, letting you show recruiters more of who you are and why you are the ideal candidate for them
Enhanced our CV parsing capabilities, to improve the accuracy of the information that we pull from your CV when creating your profile
Easily access your candidate profile from your dashboard; return to edit and update it at any point
Access jobs that you've applied to from a dedicated area in your dashboard, in case you need to revisit the job advert in preparation for an interview
Saved jobs are now visible within your dashboard, letting you easily return to the jobs you've previously saved. Remove your saved jobs with a single click to the banner at the top right of each job
Improved Job Alerts section where you can pause, reactivate or delete your job alerts with a single click
Added a recent searches section to your dashboard, so that you can easily return to the site and perform repeat searches at the click of a button rather than searching manually every time
We've recently made some big improvements to our application process, meaning you can upload your details and apply for roles on Simply Law quicker and easier than ever before!
Added the ability to apply for jobs with your Simply Law profile or your CV - simply set the default in your Account Settings
Improved the quick apply process; once you've uploaded your CV and/or filled out your candidate profile, apply using your chosen document with a single click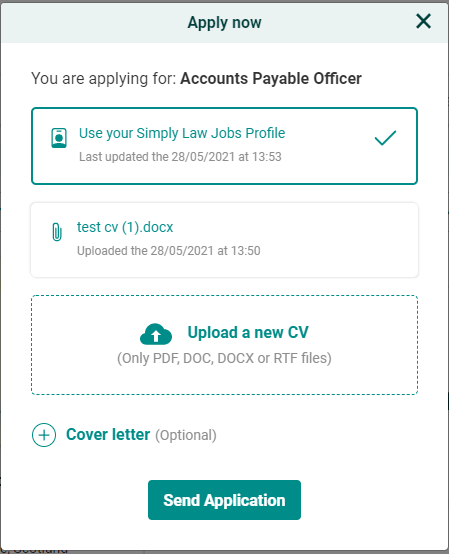 We recently spotted an issue with email alerts not always showing the most relevant jobs for our candidates; we've now fixed this to ensure the jobs you'll be shown match exactly what you've said you're looking for.
On-site feedback surveys have been launched for both candidates and recruiters to gather feedback regarding our new features. Please share your thoughts, as we really value your opinions and want to ensure the site is working as well as possible for everyone!
Our job alert emails have been brought up to date with a fresh new design, and can easily be managed via your Dashboard.
We've added a feature to our recruiters' accounts which allows them to keep you updated on the progress of your job application more easily, triggering email communications that will update you on your progress each step of the way. We'll be working with our recruiters to encourage them to make use of this feature, with the aim of giving you an improved experience in terms of being kept up to date once you've applied to a job
Take control of your communication preferences within the Communications section of your account settings. Choose which email updates you'd like to receive from us with the click of a button.
Open to opportunities / actively looking - set your profile to either of these statuses to highlight to recruiters whether you are simply open to being contacted with relevant opportunities, or actively looking for a new role at the moment
Set your default application preferences; choose whether to apply for jobs with your Simply Law profile or your CV by default
Should your contact details change, easily update these in seconds in your Account Settings
It's important to note that the current version of the site is by no means the finished article, as we'll always be striving to improve and continuing to make regular updates as we go forward. Keep an eye out on this page to ensure you don't miss out on future updates!
In the meantime, we would greatly appreciate any feedback you may have regarding the site, as this will help us continue to improve and ensure we're providing you with the best possible experience. If you would be happy to spend a few moments sharing your feedback, please click here.