In this guide we'll take a closer look at some of the recent updates to Simply Law which have been designed to make your life easier when posting new vacancies; many of these have been implemented thanks to direct feedback from our recruiters.
It's our goal to make the job-posting process as simple and user-friendly as possible to save you valuable time and effort. At the same time, we also aim to help you create quality, detailed adverts which increase your chances of attracting quality applicants.
Previewing your advert
Whilst working on your advert, you'll now be able to see a live preview on the right-hand side demonstrating how this will look to candidates once you've set it live.
As you fill in each field, you'll see your advert preview building itself automatically over on the right hand side, based on the information you've included so far.
There's no need to go through the time-consuming step of searching for your job on the site after you've posted it to double check how it looks, realising it doesn't look right, and then going back to make adjustments.
Instead you have the peace of mind of knowing exactly how your vacancy will appear to candidates, giving you the chance to adjust and perfect the details of your advert so that it looks exactly how you want before posting it.
Saving drafts
One of the most consistent areas of feedback from our recruiters has been that it's essential to be able to save adverts as drafts, and we're happy to be now able to offer this feature.
In the midst of a busy working day with multiple tasks to complete, we understand it's not always possible for recruiters to work on and complete a job advert in one go; now, if you are interrupted partway through the process, simply click the green Save as Draft button at the top right.
When you're ready to complete your advert, simply navigate to your Jobs Area, access the Drafts tab at the top, and your draft job(s) will be sitting waiting for you to complete. You can save a job as a draft as many times as you like, and you can have multiple draft adverts saved at once.
Tip – your most recently saved draft job will also be visible in your Dashboard at the top right, as a quick way of jumping straight back in without having to navigate to your Jobs Area.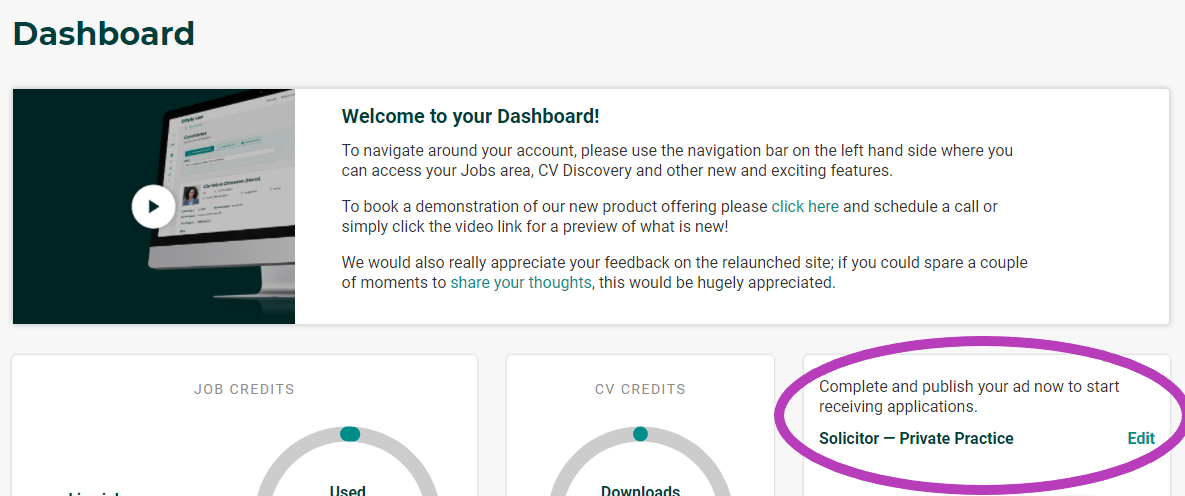 Prompts to help you create your advert
It's often difficult to know exactly how much information to include in a job vacancy, what level of detail to go into, and how to grab candidates' attention effectively.
At each stage of the job posting process, we've added prompts to help with this; including a guide on how long your job title should be, and character limits to ensure your job description contains the minimum amount of necessary information but doesn't end up too lengthy.
We've provided prompts to help you think about things from the candidate's point of view, considering what information is most important to them when putting together your job advert.
We also provide you with a draft example demonstrating the sort of format your job advert could follow, highlighting 3 key areas that you should ensure you cover: a summary of the role and its responsibilities, the key requirements applicants should meet, and the benefits on offer for employees in the role.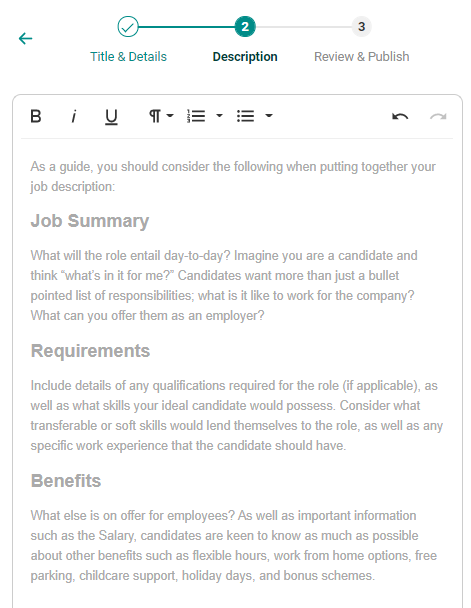 Tip – Use the Paragraph Format button to create headers for each section of your job description. This helps break up your advert visually, making it easier to digest for readers and clarifying exactly which sections they need to look in for the key information.
For more advice on how to create a quality job advert, click here.
More control over incoming applications
A recent feature that we have relaunched on Simply Law, now with additional functionality, is the ability to set parameters for where your applicants should be based geographically.
If your vacancy is based in a country which requires specific visa or residential status to fulfil the role, you are now able to block applications from outside of the job's country. Simply select "Block applications from outside the country where the role is based" within step 3 when posting your advert.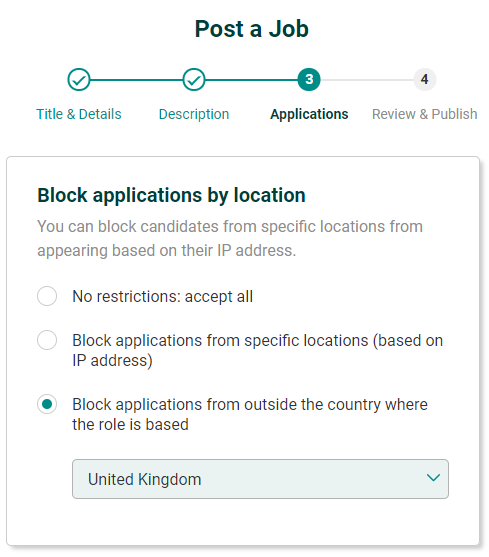 Alternatively, if the role is solely open to applicants from a specific world region, for example the EU, you can block applications from countries that fall outside of this area. Simply select "Block applications from specific locations" within step 3, and select the relevant countries and/or regions from the dropdown menu. Any users with IP addresses within these regions will not be able to apply for your vacancy.
Putting these filters in place saves both yourself and candidates valuable time and effort; you don't need to spend time fielding applications from candidates who are unable to fulfil a role based on their location, and applicants' time isn't wasted on applying for roles that they are ineligible for, able instead to direct their time and focus towards other vacancies.
More freedom over your advert's duration
Another new feature that we have recently launched is the ability to choose how long to post your vacancy for. Previously, the standard advert duration was 28 days; however we understand that every vacancy is different, and this fixed duration doesn't work for every role.
If you are hiring for a vacancy which is especially urgent or time-critical, you are now able to post your advert for a minimum of 7 days. This offers you more flexibility and saves you the need to go into your account and manually unpublish the advert once it reaches its closing date, if the closing date falls within 28 days.**
Simply select your desired end date from the calendar at the Review & Publish stage, and this is when your vacancy will expire.
Please note that you'll be charged a credit as normal each time you post a vacancy, whether this is for the minimum of 7 days, the maximum of 28 days, or any duration in between. To extend your job beyond the initial duration you selected upon creating the advert, you'll need to spend additional credits to republish the vacancy once it reaches its expiry date. Simply navigate to the Expired area of your Jobs Area to do this.
**Applies to subscription users only
It's our aim in making these changes to give you more freedom and flexibility when creating your adverts, to do this in a way that works for you. Keep an eye out for updates on further developments and new features coming in the near future; we're always working hard behind the scenes to improve your experience on Simply Law!